Communications Guide for the Khumbu Everest Region of Nepal
If you are traveling to Nepal, and headed towards Everest BC or higher, the first question you will ask yourself is how to best stay in touch.
For 2017, we did our homework, and these are our recommendations...
What to Pack
Unlocked Android Phone
Sleeve to protect your Android phone - we damaged ours during our last trip!
I-Streme App installed on your unlocked phone
Portable Charger External Battery Pack to maintain your smartphone and Thuraya charged at all times. (Note this pack has TWO outputs!)
Solar Panel (we use this one)
Wearables (HR, Pulse Oximetry) to keep track of your health that are I-Streme compatible
Thuraya Satsleeve + with a GmPRS SIM card for a data plan
Thuraya Satsleeve App installed on your smartphone (for voice)
DeLorme inReach if you are a minimalist and do not wish to have comprehensive weather updates, send pics, unlimited text, tweet, stream wearables/biometrics as often as you want...
3G, Wi-Fi or Satellite
No different than anywhere else, these are your three main options - and yet this is Nepal so don't expect any fluid transition between these.
3G: Ncell will be your local and inexpensive 3G provider
Wi-Fi: Everest-Link will be your main Wi-Fi provider further up the mountain
Satellite: Thuraya if you want voice or serious data capabilities (mail, I-Streme, pics, etc. or Iridium (inReach) if you are a minimalist...
On Arrival - Kathmandu (1400m)
As soon as you reach your hotel in Kathmandu, ask the front desk where the nearest Ncell store is located. There are many all over the city, so don't expect more than a 10 minute walk to the store. Do not pay any extra fees for internet access at your hotel - these will be expensive and useless after your trip to Ncell.
At the Ncell store, request a SIM card for your unlocked phone which they will quickly install. You will be asked how much airtime (voice) and data you wish to purchase. For a month in Nepal, we bought 5 gigabytes of data and some 240 minutes of voice time, all for some $20.
As you walk out of the store, you are connected to the internet! You will notice a new icon that appears on your android screen for Ncell. Swipe down and select it to review your data, as well as to see that a switch for "Data" is ON. (More on this later...) Now call home: 00 + country code + home phone, say hello to your family. At the end of your 2 minute call you will receive a text message showing you how much you spent... (2 minutes will cost you 5 rupies meaning some 5 US cents - yes we are not kidding...) Check your email, start up your I-Streme app, and allow it to stream to your followers your location and even post a tweet with it.
Back at the hotel, if you brought a Thuraya Satsleeve, this is a good time to test it. Find a clear spot, perhaps in your hotel lawn or pool area. Pull out its antenna FULLY, and turn the device ON. Face South. On your smartphone, go to Wi-Fi, and find your Thuraya. Select it since it will become your hotspot. For your first time use, enter the password for the Thuraya: 12345678 Once your smarthphone is connected to the Thuraya Satsleeve, you will see "Connected - No Internet". (This means that your smartphone is now connected to the satsleeve, but that the satsleeve still has not connected to the Thuraya satellite.) For your Thuraya to work with the smartphone, it must not compete with Ncell, so at this point, find the Ncell icon on the top of your screen, swipe it down, and turn data OFF for Ncell. You can now use your Thuraya with one of two apps - the Thuraya App for making phone calls, or the I-Streme app to send live data to your dashboard. (More on this later...)
Enjoy the rest of your day in Tamel or visiting local sites while being as connected or better than any local!
Airport Tips for Flight from KTM to Lukla
Your duffel(s) and backpack will be weighed in KTM and most airlines have set a limit of 20 kgs per person. You will also be weighed.
Pack lightly and weigh everything before you leave home.
To avoid surcharges, place batteries and any other materials in your pockets. (These will be weighed too, but not counted as baggage
If you are part of an Expedition, all items from your group will be pooled together.
Your bags may leave ahead of you or behind you. Don't worry - you'll find them in Lukla.
Mark your duffel bags well, have locks on them
If you are part of a group, ask the leader for the common ribbon identifier that will be placed on your duffel(s) so that porters will be easily able to identify them as part of your group's gear.
Remember that your duffel(s) will be either traveling on porter's backs or yaks, and will be knocked around quite a bit on the way to basecamp.

Your Backpack and other Self-Care Tips
There are many teahouses and stops from Lukla to Basecamp so you will never have a need to carry more than 2 liters of water. In fact, if you are wary about taking too much weight, you can safely come down to 1 liter since there are many places for you to stop.
We always bought bottled water and then placed it into our Camelbak, and found the water perfectly safe. If you buy boiled water (remember at altitude, water will boil at lower temperatures and therefore will be "less sterile") we recommend that you use a Steripen to further sterlize your water.
Always keep in your backpack some rain-gear. -(outer shell jacket and pants) that will keep you dry in case of rain.
We always carry an extra pair of dry socks.
Always keep an extra layer that you can put on or shed depending on the temperature outside. (A light down jacket weighs little and is ideal.)
For gloves, up until above 5000m, medium-thickness liners are mostly adequate, especially once you get moving.
Use plenty of sunscreen and lip balm.
Use a light hat that will cover your ears.
Carry a couple of Snickers' bars on your backpack at all times in case you get hungry or your blood sugar needs a boost.
Trim your toenails and keep a good eye on the well being of your feet on a daily basis. (DO NOT UNDERESTIMATE THIS!)
Trekking pole(s) are extremely useful.


Lukla (2860m)
All roads to Everest go through Lukla and no doubt you will be flying there either one or two days after arrival into Kathmandu.
The flight to Lukla will be unforgettable, and quick, but once you land there, prepare for your first possible communications gap...
Of all the places you will visit on your way to Everest BC or above, Lukla is perhaps the place where you will have the most problems staying in touch:
Ncell: The trusty connectivity you had in Kathmandu will not work well here. If you really want to use it, ask locals for spots that they recommend for cell reception. (Ncell energy vortexes...)
Wi-Fi: This is at best sketchy and rarely reliable in Lukla. Everest-Link will not work here either.
Thuraya Satsleeve: If you are serious about communications, you brought one of these along, and it will work. Make sure you point its omni-directional antenna to the South.
CAVEAT: FOR THE THURAYA TO WORK YOU MUST SWIPE THE NCELL ICON DOWN, AND TURN OFF NCELL DATA. FOR SOME REASON, NCELL SEEMS TO HIJACK ALL DATA COMMUNICATIONS IF DATA IS ON, EVEN THOUGH IT CANNOT CONNECT.
This will probably be your first stop after Lukla, and Ncell should work better again. VERIFY THAT NCELL DATA IS ON AGAIN - YOU WILL GET USED TO CHECKING THIS OFTEN DEPENDING ON WHETHER YOU ARE USING THURAYA OR NCELL. Use I-Streme to stream your location, tweet, text, send pictures.
Thuraya will also work well here - again, point the antenna South.
Namche Bazaar (3440m)
Namche will make you feel as if you were back in Kathmandu with regards to communications! Ncell will work well, and there are great mountaineering shops in case you now realize you are missing something for your goals further up: Black Diamond ice axes, La Sportiva boots, carabiners, Gore-Tex Arcteryx jackets, you name it - all are available here, and with similar prices as to those found in Europe or the United States. Use your credit card too!
Shop, eat well, hydrate, rest, and stream with I-Streme your location as well as your vital signs. You will begin to fell the altitude now.
Some expeditions will stop here for a rest day and do an acclimatization hike to the Everest View Hotel Lodge. Ncell should work well there too!
At Tengboche, you will begin to leave Ncell territory and enter the world of Everest-Link. Ncell may work at times, if you ask the locals where to best have a signal. (Look for the Ncell energy vortex...)
Your group may decide to stay here, or head on to to Debuche, which is nearby.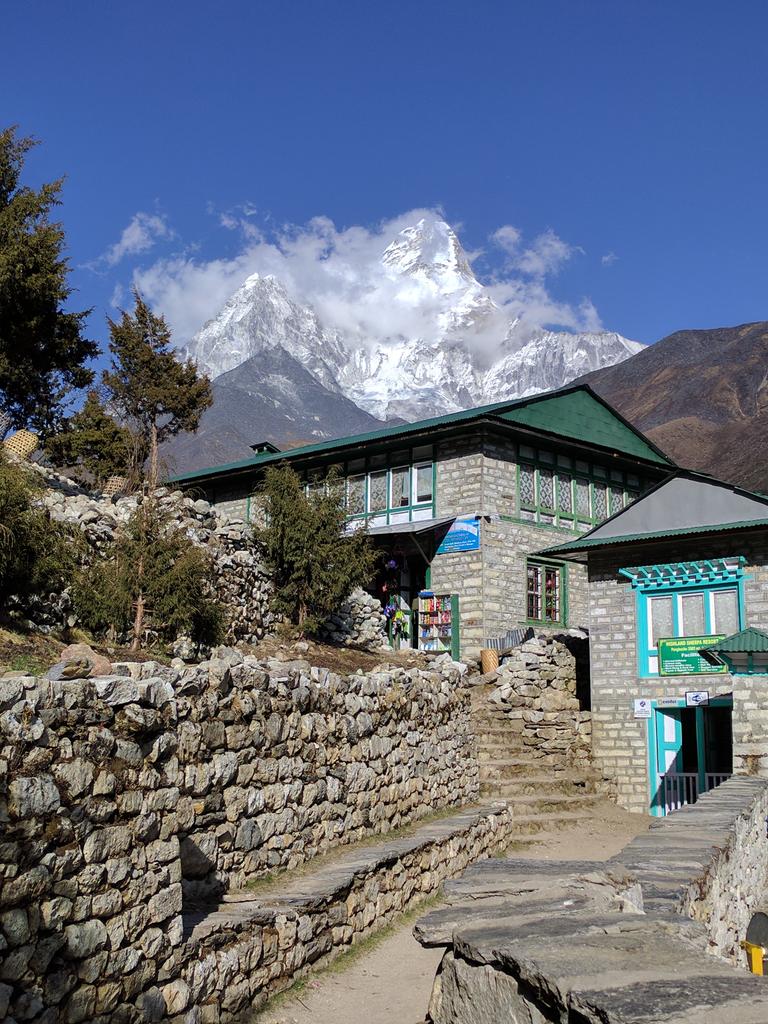 Ama Dablam view from Pengboche
You are now in Everest-Link and Thuraya territory. Although Ncell may work very spottily in some places (the locals will tell you of specific magic spots or vortexes, where you can find a signal) the former are they way to go.
Time to introduce you to
Everest-Link
: This company started its business out of Namche, and its goal is to provide connectivity to the villages above Namche on your way to Everest, as well as Everest basecamp. Their current system for connectivity is at best awkward, and works most of the time. At any lodge, ask the front desk person for an Everest Link card. You can buy something like 250 mb of data for $5. Scratch the card, and you will have a username and password, to use. Find Everest Link on your phone's Wi-Fi, and if you are lucky you will get a decent connection. In reality, we found the connectivity spotty. That is, one minute, you can have great bandwidth, and even video capabilities, and the next you are down to zero. All this is probably dependent on how many people want to connect to Everest-Link at the same time.
Thuraya will work well here. Again, don't forget to turn OFF Ncell data if you want to use your satsleeve...
Solidly into Everest-Link territory, you can use your scratch cards to stay in touch inexpensively. Stream your location, vitals, send pics, text, all with I-Streme. Thuraya of course, works well too.
There are a couple of bakeries at Dingboche, and you can enjoy a capuccino with a croissant, while you watch a movie. Relax, hydrate, rest and stay in touch with I-Streme.
If the altitude is getting to you by now, this is normal. Mild headaches and nausea are common. Watch for signs of AMS!
Lobuche (4940m)
At near 5000m, you are now not far from Everest Base Camp! Thuraya and Everest-Link are still your best friends.
Buy more scratch tickets at the lodge for Everest-Link or use Thuraya for intermittent streaming of data with I-Streme.
At the world's highest lodge, Everest-Link will work. If you are climbing
Kala-Patthar
, use Thuraya and I-Streme to document it! This will take you up well above Everest BC altitude: 5,644 m or 18,519 ft.
After you return, and before you leave for basecamp, consider buying Everest Link cards that are basecamp-specific. Your lodge card codes will not work at basecamp! (Save them for the way down...)
Everest Base Camp (5335m)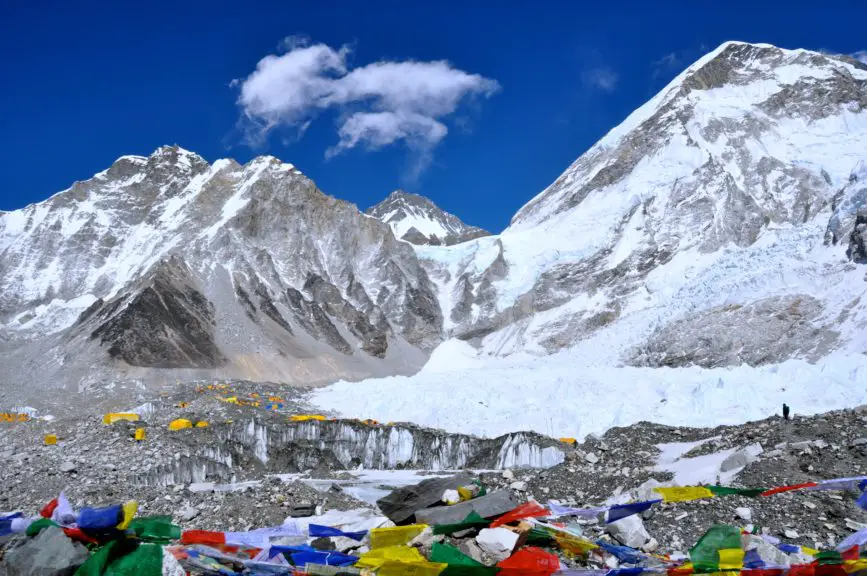 This is solid Everest-Link and Thuraya territory. And as mentioned earlier, Everest-Link has a twist here... If you have scratch tickets with extra data available from the lodges below, these will NOT work here. You will need Everest-Link scratch tickets that are specific for basecamp!
Thuraya works well here. If you have a Thuraya IP+, you are gold for even video-conferencing from basecamp. Again, point your device South, and verify that you have Ncell data turned OFF on your smartphone.
Some Sherpas have found magic spots for Ncell at basecamp - ask around. There is a tent at basecamp, usually near the Russell Bryce camp where you can buy Everest-Link tickets.
Above Everest BC (> 5335m) or on-the-trail in-between Villages


I-Streme plus your Thuraya Satsleeve will be your best options to stay in touch.
Connecting I-Streme to the Thuraya Satsleeve for the first time is simple if you follow these steps:
On your smartphone, close I-Streme if you have been using it before
Turn ON your Thuraya Satsleeve by holding its button for a few seconds.
Once ON, go to your smartphone and look for the Satsleeve on your Wi-Fi Settings and select it. (First password is 12345678).
Start I-Streme. You will notice that I-Streme will immediately detect that your Thuraya satsleeve is ON and present. Select "Enable" when asked if you want to connect to Thuraya.
Your smartphone and I-Streme are now ready to send data to your personal web dashboard!
Personal dashboard with actual data from Island Peak Base Camp
While I-Streme is capable of streaming data every second for those who are following you, we do not recommend that you do this while using Thuraya unless you have an unlimited budget and have an easy way to keep your phone and your satsleeve's battery charged in the most inhospitable of places!
Instead, use the Satellite Messenger Mode option of I-Streme. Typically what we use is 1 data packet every 5 minutes. Go to Settings in your I-Streme app, find Satellite Messenger Mode, and select 5 minutes as your data interval.
Note Transmission Interval set at 5 minutes
The app will control the Thuraya satsleeve and every 5 minutes, briefly open a satellite connection, stream your location and vital signs information to your dashboard, and then turn the connection off, thus saving you a major bill at the end of your climb. You can decide how often you send data. We chose 5 minutes since this is only 12K per hour of data while you are climbing.
The I-Streme app, with the Thuraya Satsleeve, will also allow you to text, send pictures, tweet, chat, and even read weather and forecasts for your exact GPS location. Think safety!
Keeping your batteries charged
While in the Khumbu region this is not a real challenge, but here are some recommendations:
If you did NOT bring a solar panel with you, make sure that at every stop, you charge your RAV battery pack at the teahouse lodge you are staying at. They will charge you for this, and the price will go up the higher you go. A full charge above 5000m may cost you up to $5. Down below, maybe $2.
If you DO have a Voltaic Solar system, we suggest you pay your porter an extra tip per day and he will carry it for you on his backpack while charging its battery. (This of course if you are not a veteran of high altitude in the Himalayas - and can handle its extra weight of 3.6 lbs).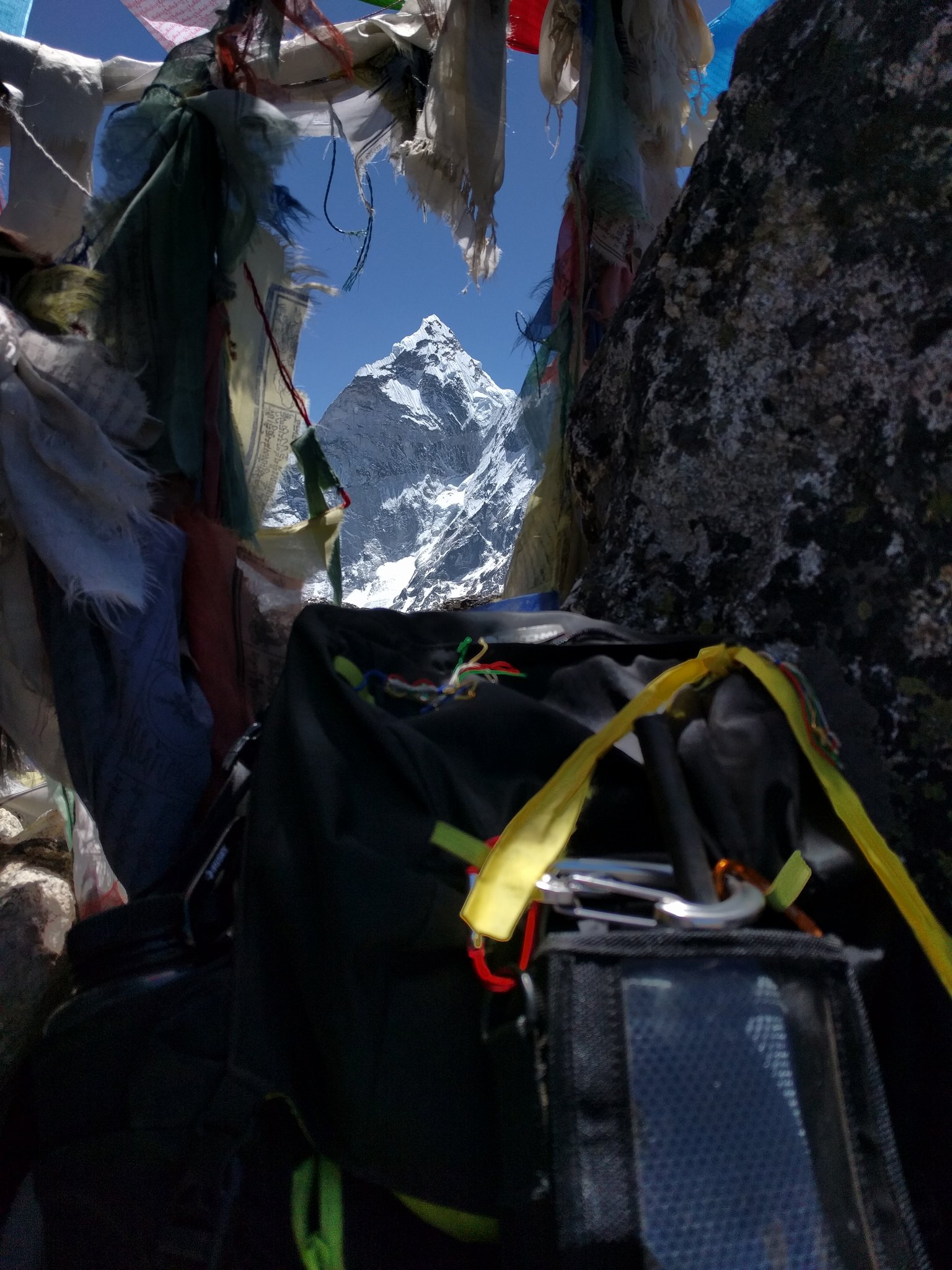 Thuraya Satsleeve on Backpack - Ama Dablam in Background


Questions??? Click on "Contact" on the wicis-sports website, and send us your concern.